Twice Bloomer a Woodland Gem
This article was first published on 01 Mar 2012.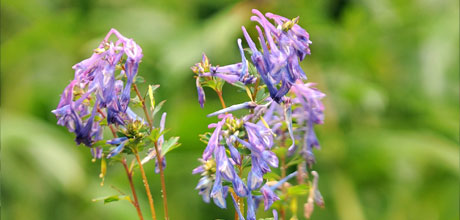 Corydalis
Over the years I have planted several different forms of Corydalis in the Rhododendron Dell. Corydalis come in a range of colours including yellow, white, pink and maroon, but for me it is the vivid blues that are most appealing.
Depending on the species they can also have a low spreading or upright habit. The spreading types are useful for softening the edges of borders and for filling peripheral gaps in the planting scheme. The upright forms give the same delicate touch, but with more structure to low-medium herbaceous plantings.
One species that combines vivid blue and the stronger upright character isCorydalis elata. Last April I planted a group of these at the top of the Cherry Walk, where in the first year they have expanded from small pot grown plants into modest clumps about 20cm wide. In time, given ample moisture and adequate drainage they have the potential to broaden to as much as 60cm wide.
The soft ferny foliage has a light golden hue as it emerges, gradually deepening to an even green. From late spring to mid summer the leafy flower stems rise to about 60cm with dense sprays of those deep blue flowers. As flowering ends, the plants die back, but by early February they produce another flush of growth. It is always a welcome surprise when a plant flowers twice in the season and by mid February two of the clumps have revealed modest displays of these bonus blooms.
Doug Thomson is Collection Curator of the Rhododendron Dell at Dunedin Botanic Garden.