Versatile herb from warmth to cold
This article was first published on 11 May 2012.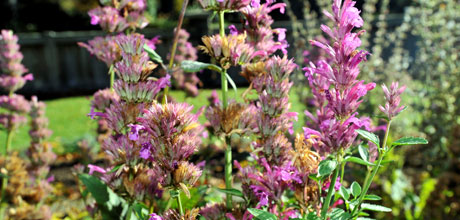 Agastache cana
Bright rose pink flowers fall to reveal soft pink bracts. Agastache cana provides a bright show of rose pink flower spikes over the late summer months and into autumn. As the flowers die off, softer pink bracts are revealed beneath and extend the colour display longer into the colder months.
Agastache cana is a perennial herb up to 50-60cm. Native to New Mexico and Western Texas, it enjoys a warm sunny sheltered location and is perfect for dry areas as it will tolerate droughts. It grows in a number of different soils but thrives in soils with added compost and plenty of gravel or sand for free draining soils.
Agastache cana does need some protection from hard frosts. However, it seems to be happy down to about -5 degrees here in the Herb Garden at Dunedin Botanic Garden but is offered some protection from surrounding plants and leaf fall.
Commonly know as the Texas hummingbird mint or the mosquito plant, they say that it can be used as an insect repellent for mosquitos if leaves are rubbed on your skin. It can be used as a condiment but has a very strong flavour and liquorice-mint scent.
Its flowers put on such a display it should not be limited just to the herb garden. It would be well suited to a mixed border or dry garden, providing bold colour through out late summer and autumn. It is even useful for attracting butterflies and other insects to the garden.
Stephen Bishop is curator of the herb garden at Dunedin Botanic Garden.