What's happening in the rose garden?
This article was first published on 21 Aug 2013.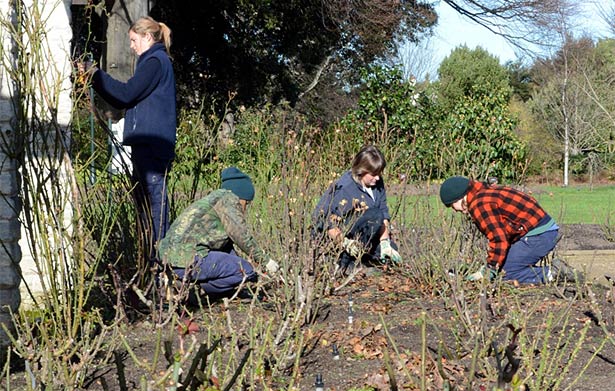 Botanic Garden staff pruning roses.
Pruning of roses is completed for another year for my work colleagues and me. The last month of pruning progressed very quickly.
If you still have roses to prune don't leave if for too much longer as they are coming into growth very quickly this season.
Quite a few new climbing roses have been planted at the Botanic Garden and we still have a few to plant over the next few weeks. One is Rosa 'Sky Tower' with vibrant pink flowers. Also, the fragrant, award winning Rosa 'Red Flame' claimed the premier award at the NZ Rose Society Palmerston North trial grounds in 2012. I have been told though to be patient as it can take a year or two to get going.
It's always exciting to see new roses flowering for the first time and note how well they live up to the photo and blurb in the plant catalogues that entice you into wanting to find room for a new rose.
Tasks ahead
Roses will be sprayed with copper and oil sprays, to protect the roses from disease-causing spores, as well as protecting the pruning cuts.
Fertiliser will be applied prior to composting. We use a general rose fertiliser.
By late September, once the soil has warmed up, we will apply compost around the rose bushes. This helps hold moisture in, suppress weeds and improve soil structure.
After all this hard work we now look forward to the first flowers of the new season around November.
Linda Hellyer is curator of the rose garden at Dunedin Botanic Garden.