Winter's Dried Arrangement
This article was first published on 22 Jun 2016.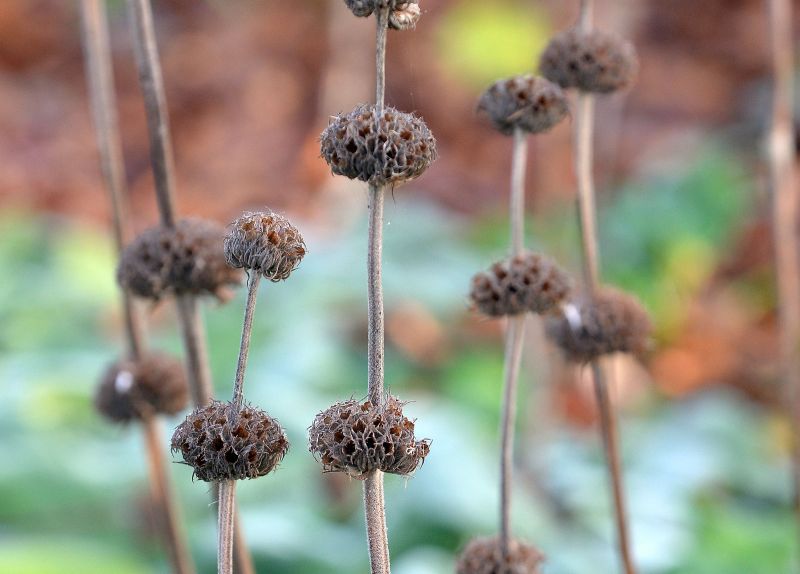 Phlomis russeliana
Photo by the Otago Daily Times
In the lower garden of Dunedin Botanic Garden, the camellia collection borders are settling in for the winter. The bold evergreen forms of the camellias give structure to the borders and the wide variety of groundcovers provide interest all year round with their flowers, forms and colours.
As these groundcovers die back for the dormant season, foliage and flowering stems can start to lose colour and foliage, as the plants absorb nutrients back into their remaining structures. For aesthetic reasons you can cut back the parts that look unappealing but in very cold climates, it is beneficial to allow the top growth to die down naturally over the crown to protect it from freezing.
Several of the dry, flowered stems of herbaceous perennials are worth keeping for their display. Often visually enhanced by a crispy, crystallising frost or the long rays of winters' sun, they last well into the coolest season. Stems need cut down only when they are physically damaged or at the cusp of spring, before growth begins.
In the botanic garden camellia borders, a wonderful wintery spectacle is created by the persistent dried flowering stems of several herbaceous plants. Consider Phlomis russeliana, with its upright one metre-tall flowering stems carrying whorls of dried flowers at intervals in a tiered fashion. Locate and be inspired by nature's dried arrangements of Phlomis, Sedum, Astilbe, Hosta, Persicaria and many more among the collection of camellias.
Experiment in your garden to discover perennials which provide even more than you expect.Marianne Groothuis is the Camellia and Theme borders collection curator at the Dunedin Botanic Garden.